Mella Journal November 2020
Posted on
Mella Journal
November 2020
I'm writing this on a wild and windy night, I have been at the day job and now I'm home in front of the fire with a Mella candle on the go (quality control – obviously). I should be doing a couple of hours in the workshop but quite honestly I don't know if I'd get around there, yes it's that wild! I have been really busy and SO grateful for all the online orders I have received so far. I was really worried that business was going to be slow this Christmas but I have been pleasantly surprised. I haven't had as many wholesale orders this year as I would have hoped but that's totally understandable. For a while there I thought there would be none! I really feel for the areas of Scotland going into level four restictions and for the other parts of the UK who are also in their second lockdown. So, I am beyond thankful!
I'm still having a few supply problems. While I try to source as many of my materials from Scotland and the UK as I can, I guess these companies rely on sourcing things internationally and there continues to be lots of delays in the system.
Tea Green Market Place
Next weekend Mella Handmade Soap will be taking part in the second of this year's Tea Green Winter Markets. Last month was amazing and I was delighted with all the orders and shares and comments on social media. There was a real buzz on the Tea Green Marketplace Facebook group page, it was almost like being at the real thing! So please join us if you can on Saturday 28th and Sunday 29th November here's the link below. There's also a 15% discount code for all Mella sales over the weekend with code: TEAGREEN
https://www.facebook.com/groups/teagreenmarketplace
There are so many talented designers and makers there, it's the perfect place to find Christmas gifts while shopping small. So, with that in mind I thought I would make a few suggestions for Christmas gifts that your friends and family will love and will spread a little Christmas cheer to some small businesses.
Mella Shop Small Christmas Gift Guide
Soap Dishes and Ceramics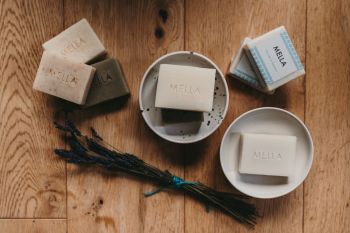 Clod and Pebble is based in Ayrshire and also taking part in the Tea Green Market. Chris has a stunning collection of mugs, plates, dishes and wooden utensils. They are gorgeous, beautifully made and really special but at the same time are affordable. The soaps dishes are the perfect partner for a Mella Soap too! I now have three of these dishes, excessive? I don't think so.
Cosy Nights
There was snow on the ground yesterday so I think we are now officially in hot water bottle season. For cold winter nights these hot water bottles with merino wool covers are so cosy. I have one and LOVE it.
https://www.weewoollies.co.uk/hot-water-bottle-grey-coral-yellow-stripe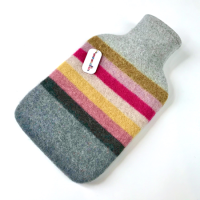 Scandi Christmas for the Hygge Vibe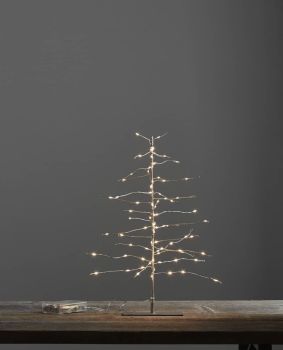 I love Christmas lights and decorations and I'm quite excited about getting the decorations up a little earlier this year to cheer things up. I bought this gorgeous little tree from a really lovely Scandinvian shop in Edinburgh called Spektakular. I have three felted plant pots from there too. Lovely! They have an online shop but if you're in Edinburgh you'll find them in Bruntsfield.
https://www.spektakular.co.uk/
The Perfect GnT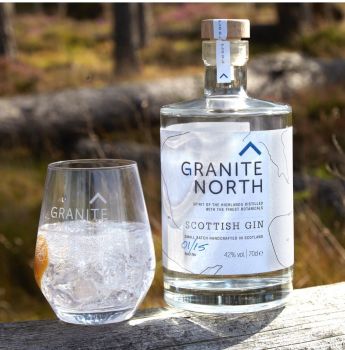 I first discovered Granite North Gin at The Balgove Larder Christmas Night Market last year, whose brilliant idea was it to put my stall next to some gin? Well, of course I bought a bottle and it was delicious. It's available at The Balgove Larder in St Andrews and Hammerton Store in Aberdeen, amongst other places, but these two are particular favourites of mine.
Granite North Gin is also available online.
https://www.granitenorthgin.com/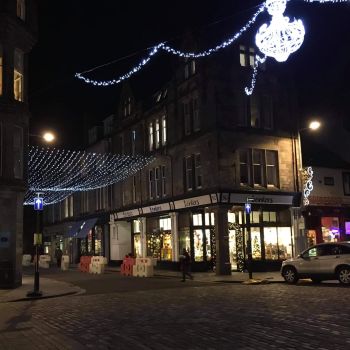 It's Never Just a Card
During lockdown I wrote lots of cards to friends and family and I bought a pack of greetings cards complete with a book of first class stamps from the amazing Bonkers in St Andrews. Lots of brilliant gifts and stationery. Normally I'm in Fife at a few markets at this time of year and always get some lovely cards here.
Eating Out
Restaurants are really struggling and now that Fife is in Tier 3 many small restaurants have had to make the tough decision to close their doors as having to close at 6pm and only offering a lunch service with no alcohol sales just isn't an option. One of my favourites is The Dory in Pittenweem.
They are offering gift vouchers for any amount you wish, so you can buy dinner now and enjoy it when things get back to some sort of normal. I would make a recommendation but I can't, it's all so delicious! Well, the Cumbrae oysters are amazing. I am a terrible decision maker in a restaurant. I was there for dinner in the summer and the hygiene protcols that were in place were great and it felt like a very safe experience.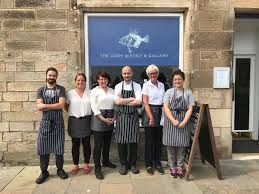 Knitwear
Fraser Knitwear in Shetland makes lovely lambswool and cashmere scarves and wraps. I have two and wear them all the time…….in fact I'm thinking it might be time for another. Beautifully made contemporary Fair Isle designs plus Joan is just amazing and when you buy from a one-woman business that's something extra special, in my opinion!
https://www.fraserknitwear.com/
A Special Gift from Unst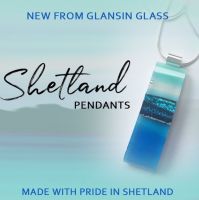 A business local to me is Glansin Glass in Uyeasound, Unst. Cheryl Jamieson makes beautiful fused glass products, pendants, glasses, coasters, hangers, bowls and driftwood glass art. Cheryl was due to open her new workshop and visitor centre earlier this year but Covid put a stop to that. The building is just about complete and hopefully she will be welcoming customers and workshop participants soon.
https://www.glansinglass.co.uk/
Caputuring Perfect Moments
Some of you may have noticed that I have been sharing some new photographs of my products. I contacted Susan Molly in the summer to ask her if she would take some photos of my soaps, candles and new tweed accessories after seeing her photographs on Instagram. I just love what she's captured. She does family photo shoots, weddings and special occasions. Her work is so natural and authentic, really beautiful and imaginative.
We have teamed up and Susan is offering a beautifully wrapped gift box with a voucher for a one-hour photography session with a Mella Christmas Candle and Mella website discount code. The voucher is valid for a photoshoot in Shetland in 2021, so you have plenty of time to plan how you'd like to use it. Capturing moments and memories really is a gift, especially in this crazy and busy world we're living in. Life moves pretty fast, if you don't stop and look around once in a while, you could miss it! Love a Ferris quote. Those of you who know, will know!
Check out her Instagram profile
https://www.instagram.com/whatsusanseesphotography/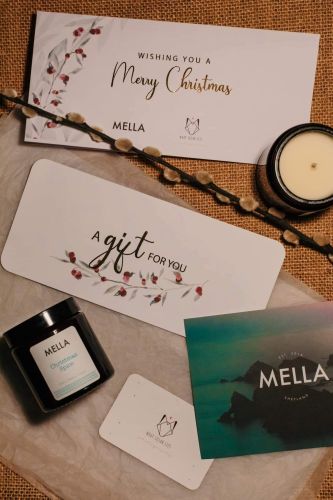 It's A Wrap
Finally, once you have the perfect gift it has to be wrapped and I have found this amazing eco giftwrap set from Cascayde. They also have face masks and other lovely things including cosmetic bags and wall maps (perfect for planning about our post-corona escape) and much more. Carly and Greg are my trade stand neighbours at the Scottish Trade Fair in January. Sadly, it won't be happening next year, such a shame it always feels like a little Glasgow getaway! I love mooching around Finnieston and a dinner at Mother India is a must. The butter chicken.....oh wow.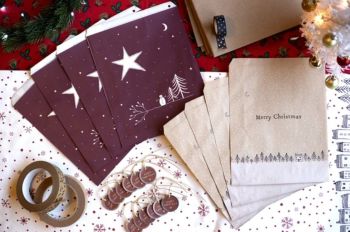 There are so many more brilliant little businesses out there that I could mention and we're all competing against the likes of Amazon which just isn't possible. Shopping small and shopping local means that money spent is kept in communities, usually invested back into other local businesses, keeping people in local employment, keeping our high streets viable and vibrant and not just helping the likes of Jeff Bezos buy another super yacht or pay for an expensive divorce.
I know you are reading this on my website and I have my online shop here all stocked up but many of the small independent shops I supply have had to move everything online or at the very least up their online game. I will try and update the stockists page on the website and if you feel like spreading the shop local love, please check them out.
Living Lerwick have recently made a lovely little promotional film with Kieba Film to highlight how shopping local really means so much more.
Times are tough for people this year and spending money on luxuries may not be possible but even if you buy just a card, or share a social media post you're AMAZING!
Well, thank you for reading my second Mella Journal entry.
Take care, stay safe and keep washing those hands.
Mel