Mella Journal July 2021
Posted on
The summer is whizzing by……hope you are managing to enjoy it! Restrictions are pretty much fully relaxed now and I don't know about you but I'm still feeling nervous about it all. I'm probably washing my hands more than ever……good thing I have access to lots of really amazing soap! I'll be keeping my face covering for a while too. My favourites are made by good pal Amy Britton check out her face coverings and other products here www.amybritton.co.uk…..her face coverings offer the best protection and are pretty stylish too! I'm not just telling you about them because she's my chum....they really are the best!
It's PLASTIC FREE JULY this month and I have been trying to find ways of reducing plastic at home and being super careful with recycling. I have been looking at ways to cut down on my use of plastic and I really try and make sure Mella Handmade Soap's impact on the environment is kept to a minimum too. My soaps are wrapped in compostable paper use aluminium tins for my skincare and candles.
Here are THREE Easy Eco-swaps you can do TODAY for Plastic Free July and beyond!
1. Use a bar of soap instead of a bottle of liquid soap. Even swapping one bottle for a bar of soap at home will make a huge difference.

2. Swap your Chapstick for a Mella lip balm in a recyclable tin. It's much nicer too.

3. Ditch bottles of shampoo and conditioner and use a Mella Shampoo Bar. Mella Shampoo bars come in a handy tin (perfect or taking with you on your next staycation)! If you're buying a replacement then you can opt to but it without a tin, save some money AND reuse your tin!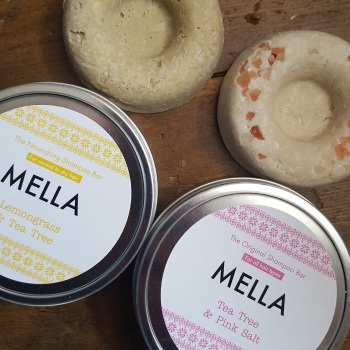 Mella Shampoo bars are fab, no transition period just lovely clean hair! The bonus is that shampoo bars last much longer than bottles of shampoo too and there is virtually no waste!
It's that EASY…….and by doing these things you can massively reduce your plastic bottle use in your own home! I would easily get through at least two bottles of shampoo and conditioner and 2 or 3 bottles of shower gel a month – that's a massive 60 plastic bottles! There are another two people in my household………it's amazing!
So, to help you make some changes to reduce your plastic bottle use there is SALE on shampoo bars until the END of July! There's no code just a saving for you! There are two to choose from Tea Tree and Pink Salt (my favourite) or Lemongrass and Tea Tree If you haven't tried a shampoo bar before now this is the time! CLICK HERE to get yours now
What else can we do to reduce the use of plastic in our lives? Here's a few eco-friendly businesses you should check out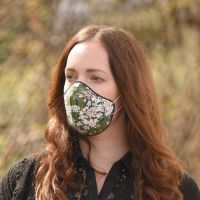 Amy Britton Accessories – Speaking of facemasks, Amy has designed re suable and complaint face coverings with THE most stunning designs, check them out her stunning products. www.amybritton.co.uk I love the nature inspired designs.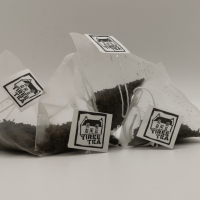 Tiree Tea – I'm a tea fanatic and was delighted to discover Tiree Tea! Delicious teas from a classic Crofter's Breakfast blend to Earl Grey and herbal infusion in plastic free teas bags. A guilt-free cuppa. Visit www.tireetea.co.uk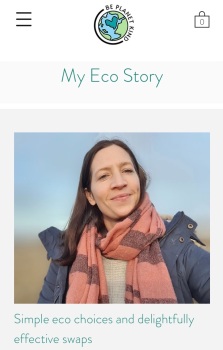 Be Planet Kind is an online eco shop run by Rachel. She is a passionate promoter of eco-friendly products and eco swaps. All the products on her website have been tried and tested by her. Easy ways to reduce plastic in your home. Check out her website and sign up to her newsletter to hear about offers and new products. Visit www.beplanetkind.co.uk
Cascayde – I LOVE these plantable greetings cards! Such a great idea for a letter-writing obsessive like me! They have lots of plastic-free products, gift wrap and reusable facemasks. Visit www.cascayde to discover more.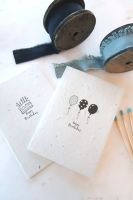 That's it for this month, stay safe and keep washing your hands AND don't forget there's 10% off with code TEAGREENTREATS until the 31st July.
Mel x