Mella Journal January 2021
Posted on
Mella Journal January 2021
Happy New Year! Well….not sure about happy……Lockdown 2021. We are still living with restrictions and looks like we will be for a while. I have tried being optimistic and for the most part I think I have managed it but like everyone I have off days, times when I am finding everything a little bit too much. I'm grateful that my friends and family have managed to stay safe so far but still worry as things can change in an instant.
Normally I would be just heading home from the trade fair in Glasgow, full of energy, and enthusiasm for the year ahead with a bunch of orders and some new friends but this year it's a bit different. I'm still trying to muster up some enthusiasm, there are not so many orders but it will be okay. All the lovely shops I supply, with the exception of those on the islands, are all closed and even then those shops are really struggling as people, quite sensibly, are limiting their trips out and about.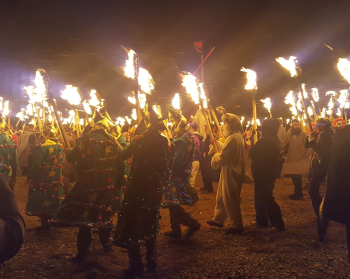 By now Shetland is usually buzzing with the thought of the Up Helly Aas that will take place all over the islands, sadly not this year. I think we will get the fire pit out when it's our turn and have a little fire celebration of our own. I'm guessing mostly everyone reading this will know what Up Helly Aa is, if you don't, well it's a Viking fire festival with lots of Vikings, burning boats, parades in the streets, all night fiestas and much more. I have to admit that I don't really get involved, if it's a nice night I will try and go and see the procession and galley burning at the festivals we have here in Unst (there are two in Unst in Uyeas
ound and Norwick) but I don't take part really. There are 12 festivals which take place from January to March. The largest festival takes place in Lerwick on the last Tuesday in January and really is an amazing thing to see. The two festivals in Unst take place two weeks apart in February.
Okay that's enough about Up Helly Aa but it is an important part of Shetland life and is seen as the light which gets us through the dark winter. This lockdown is proving to be so much more difficult for so many people this time round. The wild winter weather, the shorter days (although I see a difference in the length of the days already) and not being able to socialise and to have something as bright and warm as Up Helly Aa to look forward to is making things see extra bleak. After all the whole idea of Up Helly Aa is heralding the return of the sun…..it will come back and things will get better.
I am a great believer in writing down your thoughts and ideas and even though I don't know when life will return to normal I have been busy writing lists with plans and ideas for the year ahead. I asked on Instagram a few weeks ago what you all thought about the idea of a soap and candle subscription. I had some great feedback and I am busy working away in the background trying to put it all together. If you are reading this and have some ideas you'd like to share let me know or if you'd like to be the first to know about it when it starts to finally come together, follow Mella Handmade Soap on Facebook and Instagram and sign up for Mella updates on the website. I promise not to spam you with lots of emails and your details are completely safe and won't be shared with anyone. It's all very exciting and I think you are going to LOVE it.
Anyway…….to help us to get into the new year and to plan for the year ahead I have put together a mini mindfulness gift kit, to gift yourself or for a friend. It includes a lovely notebook from Cairney Ivy, a small one-woman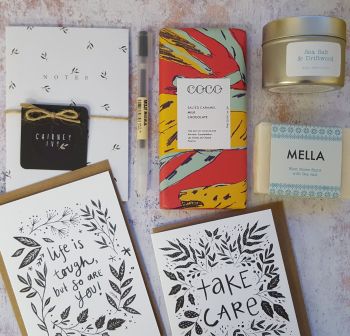 business based here in Shetland, the all important Muji pen (it's a writing game changer), a delicious COCO Chocolatier chocolate bar, a Mella soap (with serious virus busting properties) and a Mella candle to create the perfect relaxed and coorie atmosphere. You can add a gorgeous card designed by Juniper Press, another one-woman business, from Aberdeen. Write down your plans, ideas, ambitions and dreams for 2021…….it's good to dream, it will get better. They are just £20 for the kit and the card can be added for just an extra £3. There's only a limited number available so get in there!

Right, I will go for now………….stay safe, keep washing your hands and thank you for reading and keep dreaming…….we're nearly at the end of this.
Mel