Mella Journal December 2020
Posted on
Mella Journal - December 2020
Well…..we've just about made it to the end of the worst year ever. Well done! It's not been an easy year for anyone. I'd love to say a HUGE BIG thank you to everyone who has supported Mella Handmade Soap this year and I hope you continue to follow the Mella journey next year too. I have some grand plans and hopefully enough energy to see them through.
I know I seem to go on and on about it but the #shopsmall and #shoplocal message seems to have really struck a cord with people and the support that small business has received has been AMAZING! Some of you may know that I work in a local shop as well as running my own business and that I had hoped to start working for myself full time this year but Covid had other ideas. Working in the community and feeling genuinely helpful, as people felt that they couldn't leave their homes and needed their shopping done and delivered has been one of the highlights of this horrible year. The local shops of Unst – H. Henderson, Skibhoul Stores and The Final Checkout really stepped up, as did a mini army of volunteers who helped pack shopping and delivered boxes all over the island. The posties and Jim who delivers the parcels all did a fantastic job too. It's been a real community effort that we have seen reach a new level.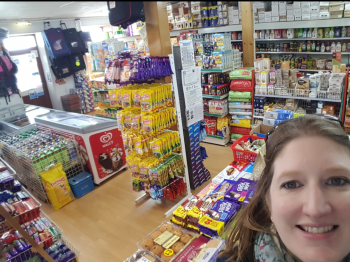 Hard at work at H. Henderson in Unst - Also known as Ethel's!
So this month I'd like to highlight a few more local heroes who have adapted and changed their businesses to really serve their communities.
The Pittenweem Hub, Fife
The Pittenweem Hub is a pharmacy, post office and shop which serves the lovely little town of Pittenweem in the East Neuk of Fife. They have offered home deliveries, provided a vital pharmacy and advice service, had a brilliant list of what stock was available listed on the door…..remember that time when we couldn't find sanitizer, thermometers and toilet roll? We seem to have found ourselves in the same situation....crazy times indeed. They have such cheerful staff and kept everyone topped up with bread milk and if you needed it, wine and gin.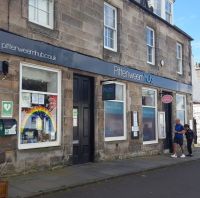 The one-stop-shop for all your needs in Pittenweem, a real community asset.
Hammerton Store, Aberdeen
Susan and her team at Hammerton Store are massive supporters of Scottish produce, crafts and gifts. She mobilised her team and adapted Hammerton Store to cope with every bump in the road and change in government in guidelines, including an extra Aberdeen lockdown just as everyone else was enjoying a little bit of normality in the summer. Each day they serve up delicious lunchtime treats and just now a hamper wrapping service for perfect Christmas gift is in full swing…….makes me wish I had the Hammerton Store on my doorstep……lucky folks of Aberdeen!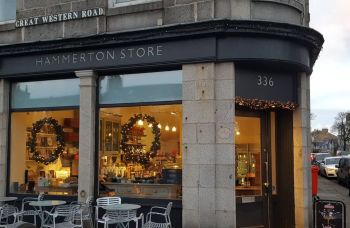 Hammerton Store on Great Western Road, Aberdeen.
Kitschnbake, Newport-on-Tay, Fife
If the daily scones on the wall post on Instagram doesn't cheer you up, nothing will! MJ, Charmaine and the Kitschnbake team have really adapted to the covid conventions. As the space for eating inside is too small they have changed that area into a gorgeous shop, showcasing the best in Scottish craft and design, including a range of candles made by Mella especially for them! I bought some lovely cards when I visited there in August…..and the scones, so delicious…..you'll never want a boring old plain scone again!
Amy Britton Accessories, Stirling
Amy really has adapted and changed her business to cope with what the pandemic has thrown at us. She has a range of stunning Harris tweed purses, bags, glasses cases and more and in the middle of everything designed and made some exclusive products for Mella Handmade Soap using some stunning Shetland Tweed woven on the island of Yell. Not only that she quickly looked at how she could change her business to start producing face coverings as it became pretty clear that they would soon become a part of our lives. She is now making masks to add to her own range, for my business as well as Emma Ball and Sandra Vick, plus others.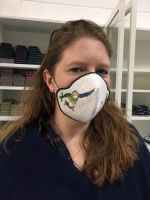 Not doing a great job of modelling an Emma Ball face mask at Amy's studio in Stirling.
Teagreen Online Marketplace
One of the best markets I was able to attend last year was organised by Teagreen Events at The Bowhouse just outside St Monans in Fife. It was such a fantastic day with so many beautiful things to buy, delicious food and drink to share over Christmas. The thought of not being able to go again this year was pretty sad but Joanne MacFadyen who organises the craft markets did THE most fantastic job of putting the whole thing online. I was a bit sceptical at first, I mean how can an online event ever replace the real thing? Well, in truth it can't but Joanne's efforts were so impressive and I took part in three online events, each better than the one before! She managed to create a market atmosphere online….how did she do that?! She put together makers and designers from all over the country who offered a wonderful range of handmade products and gifts. I have discovered lots of new makers just by taking part and did much of my Christmas shopping at the online market too. So just like the real thing…..I spent lots of money on my fellow stall holders tables and have got lots of gifts, some of which may or may not be for me!
Unst Leisure Centre, Baltasound
When Swimming pools and fitness centres were forced to close that had a massive impact for so many people. Our leisure centre here in Unst is not just a place for taking exercise it's meeting place and social hub for all ages. Faye Cox put many of the fitness classes online and kept everyone active and motivated. Her positive and enthusiastic nature kept everyone going and now the centre is open again it's welcoming new people and people who may have gotten out of the way of going to the leisure centre back as we have all realised how important exercise and social interaction is to our physical and mental wellbeing.
There are so many other small businesses I could mention, everyone has made the biggest effort. Hopefully 2021 will bring us some better times and that everyone will remember what their local shops and business have done to help their communities.
**I wrote this last week before the latest announcements from the UK and Scottish governments and I wondered if I should have re-written the whole thing. Now many of these places are forced to close for three weeks and perhaps longer. This year really is the year that keeps on giving us more bad stuff to deal with. But as the image below says…..Life is Tough but so ARE you!**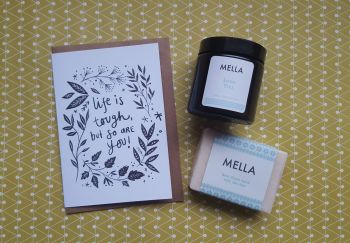 Gorgeous card designed and made by Juniper Press of Aberdeen. Available on my website with a soap and candle of your choice.
I can't thank everyone enough for supporting my business this year, for reading my blog, liking my social media posts, it all means so much.
THANK YOU!
Have a Merry Christmas and here's to a better 2021,
Mel x